In a public briefing session being held today in Gieltys Bar and restaurant, Dooagh, Mayo County Council outlined the early stage plan for a Wild Atlantic Way Signature Discovery Point to be constructed by summer 2016 on Moiteóg Head in Keem Bay.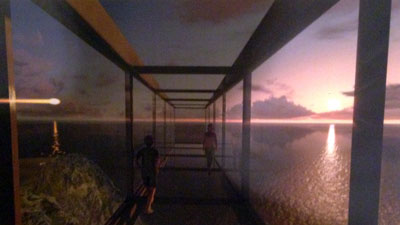 The plan to construct an "Achill Skywalk" (see picture) was unveiled to a generally receptive local audience at an open day where some "visualizations" of the project were displayed alongside pictures of the completed Discovery Point project undertaken by the council in Downpatrick Head recently.As this is the beginning of a consultative process, the plans presented were not particularly detailed or accurate, but enough to instill the concept of a glass corridor extending out over the cliff edge near the old WW2 lookout post.
What is being proposed is the construction of an enclosed cantilevered glass platform facing South West, that extends out over the cliffs at the top of Moiteóg so that visitors to Achill Island can gain a pretty spectacular perspective of the cliffs and the sea below.The old world war 2 lookout post that sits there currently will be restored and the path that was built to service this post (which has been overgrown in the intervening years) will be uncovered and upgraded as an upland trail to allow access to the new feature.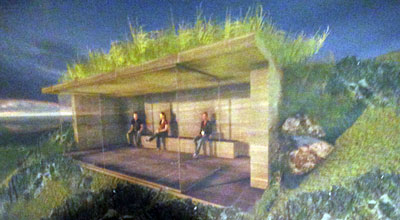 It is possible that some shelters (see pic) will be built around the platform but this is open to further discussion.There will be an information point at the car park which will serve to put the idea in context for visitors.The estimated cost for this project will be in the region of €2 million-however as of yet there has been no official allocation of moneys from government funding.
Loveachill.com went along and looked at the plans, listened to the project manager, spoke to the engineers and came away with the following thoughts.
This is a major investment in tourism locally which could offer long term benefits to the tourism industry on Achill by providing a unique space that visitors make the effort to travel to Achill Island to see.There is currently no construction in Ireland or the UK that offers this type of experience, although there are several significant ones in dramatic locations like the Grand Canyon and Mont Blanc in the French Alps.
Mayo County Council do seem to take seriously the issue that Keem Bay is already an amazing location and any construction must make virtually no impact on the landscape.To this end they are also proposing to remove the "unsightly" steel crash barrier that was placed along the roadside recently and replace it with a more sympathetic barrier similar to the boulders that were in place already..! They emphasize that the "Achill Skywalk" will be built into the landscape and not visible from the beach below. For locals and visitors already familiar with Keem Bay, this is a huge concern.
The Wild Atlantic Way viewpoint is not going to be accessible to everyone.Moiteóg Head sits at around 200m above sea level and even using the old lookout post path which winds it's way up to the top, rather than taking the steeper route directly up the hill, this is still a large enough incline.The path is about 800m long so the incline will be 1 in 4, which will make it a good pull for anyone that decides to go for it.We would be concerned that some people might be a little disappointed when they see what's in front of them, having made the effort to travel there in the first place.
There will be further open days as the project gathers momentum so that local input can be considered.Mayo Co Council are making an attempt at being transparent (if you pardon the pun)-although hopefully at the next open day they will come better prepared in terms of the material that they showcase, as they did admit during one of the briefings that the "visualisations" were " a bit misleading" - showing structures that were probably larger and probably more dramatic than the final product.We show some of these images in this article.
Mayo County Council will have many issues to resolve on the way to the completion of this project.There are landowners to consult, a planning process to undergo, practical matters of how to keep the sheep out, if it will be required to be manned,how the glass floor will be protected from damage etc .Lots of considerations.
There isn't however,any debate around how appropriate a construction like this is or whether nature requires interpreting and "framing" at all.The project is being proposed as a fait accompli.Whatever your opinion on it, the Viewpoint is a venture designed to increase visitor numbers to Achill in line with a huge push by Failte Ireland abroad for the Wild Atlantic Way.No-one will argue with the suggestion that Achill needs to develop a busier and sustainable tourism offering, however not everyone will agree that this is the way to do it.Mayo Co.Council are setting the bar high for themselves by promising a low impact product in a highly sensitive location to assist the development of tourism on Achill Island .We will keep you informed of developments, local reaction and how Mayo Co Council are doing in living up to this promise.
We'd love to hear your feedback on our facebook page.