Ferndale has a "Discover Ireland" 5 Star accreditation and offers an unique experience, a chance to escape the ordinary with its beautiful location, themed rooms & fabulous restaurant. Travel far beyond what you would expect, it may be a few nights in the Guesthouse or just an evening in the restaurant.
With stunning, themed rooms ranging from Venetian to ancient Chinese. Guests can enjoy unique, exotic cuisine and late check-out.
Luxurious décor and furnishings fill each room, with individual themes such as classical Roman, medieval, Mayan, or Arabian. Rooms enjoy either sea, lake or courtyard views, along with super king-size beds. Cooked breakfasts are served each morning, and evening meals are available in the sumptuous surroundings of the restaurant with beautiful sea views. The a la carte menu offers an extensive range of global cuisine and wines.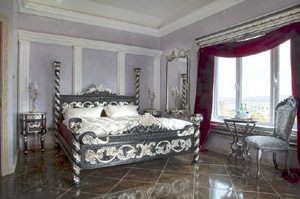 Keel's centre is just a 10-minute walk away, and free parking is available. Ferndale is and has always been a labour of love and a work in progress. From the first day we opened the doors until now we try to create a very special hideaway with six historical themed bedrooms and an equal historical themed menu for our guests. Ferndale's unique unusual approach makes it a destination to travel to. With love and devotion have we tried to create an extraordinary experience for our guests away from normality of today's modern hectic life. Ferndale is nestling in the hills of Crumpaun. Restaurants, Pubs, Shops, Art Galleries are in walking distance.
Keel,Achill Island.098 43908

This email address is being protected from spambots. You need JavaScript enabled to view it.